Surveying Software
INTRODUCING SURVEY REPORT GURU
NEW REPORTING SOFTWARE
FOR SURVEYORS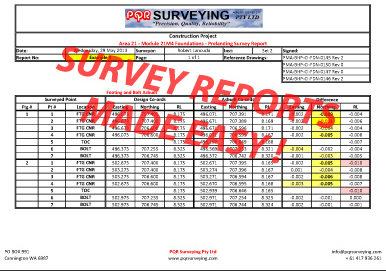 SRG BENEFETIS FOR USERS
SAVE LOTS OF TIME! Automatically find and compare all relevant asbuilt and design information using program's powerful search and recognition routine. Minimise manual handling of data, speed up processing and eliminate data handling errors.
Easily transfer asbuilt and design data output from your favourite surveying or engineering software.
Quickly create your own customised templates for use on projects, or choose from many predesigned survey report template formats.
Format your report data output at various levels, from the general program level, project, job, task, …, right through to the individual data level.
Quickly and easily set up or change report settings for tolerances, displaying of survey data and results, data recognition formats for automatic processing of input files, and many more …
Swiftly edit reports with many flexible options and without manipulating data manually over and over again, thus saving even more time and eliminating even more errors.
Smoothly make professional-looking, clear reports equally easy to understand by surveyors, engineers, management, supervisors and tradesmen.
Creating reports with SRG software is simple, flexible and quick. Assistants can first prepare reports for you to later check and sign at your convenience.
Make the most of your company's work time!